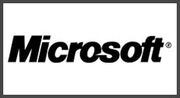 Microsoft, a company founded by Bill Gates and Paul Allen in 1975, is now one of the biggest software providers in the world.
First made famous by the original staff's MS-DOS, and later, Windows 1.0 (and then the more well known 1.01), Microsoft is now the dominant operating system on the computer market. Microsoft now has a diverse portfolio, focusing on both hardware and software. Microsoft has manufactured the Xbox, Xbox 360 and Xbox One consoles, and runs the Xbox Live digital platform.
Ad blocker interference detected!
Wikia is a free-to-use site that makes money from advertising. We have a modified experience for viewers using ad blockers

Wikia is not accessible if you've made further modifications. Remove the custom ad blocker rule(s) and the page will load as expected.